Instructor
Dr. Michael McEachrane
Activist and scholar Dr. Michael McEachrane discusses his research on the lived experiences among people of African ancestry in Sweden and other Nordic Nations. This is set against the backdrop of Nordic Nations historically promoting the image of equality, while also struggling with Anti-Blackness. Dr. McEachrane explore the ways in which African descended people create community and foster psychological health within this context.
About the Presenter
Michael McEachrane is visiting researcher at the Raoul Wallenberg Institute of Human Rights and Humanitarian Law in Sweden. He is also the founding and consultative member of the European Network of People of African Descent. He has a PhD in Philosophy from Åbo Akademi University in Finland.
Dr. McEachrane has contributed to the report on reparations by the UN Special Rapporteur on Racism. His publications include, "Universal Human Rights and the Coloniality of Race in Sweden" and the book "Afro-Nordic Landscapes: Equality and Race in Northern Europe."
European Network for People of African Descent
CE/Professional Development Credit(s): 1
LEARNING OBJECTIVES
Identify methods that people of African descent living in Nordic Nations use to create social support systems and develop a sense of identity and psychological well-being.
Describe Anti-Black racism in Sweden and other Nordic Nations.
Level: All Levels
Length: 1 hour & 7 mins
Format: Asynchronous (self-paced)
Obtaining a CE/Professional Development Certificate:
In order to obtain a CE/Professional Development certificate, you must complete all sections of this course, score 80% or more on the quiz (multiple attempts are provided) and, fill out a satisfaction survey.
Note: The video lesson, quiz, and evaluation are formatted into separate sections. While your progress is saved after completing each section, the system will require you to complete the entire section again if you stop in the middle.
Conflict of Interest:
There are no known conflict of interests for this program.
CONTINUING EDUCATION
Homestudy CE's are approved nationally via the American Psychological association and the National Board of Certified Counselors.
CE Credits | 1 Core | Psychologists
CE Hours | 1 Core | Counselors
Social Work, School Psychology & Marriage & Family Therapy
The live virtual version of this workshop was originally approved by ASWB & NASP nationally in states that accept CEs granted by these accrediting bodies. This homestudy course is consistent with related hours. Please check with your state licensure board for rules.
CE Hours | 1 | School Psychologists
Clock Hours | 1 | Social Work
Contact Hours | 1 | LMFT's


Get Connected
Instagram - @AHealingParadgim
Linkedin - Dr. Ifetayo Ojelade
YouTube - Dr. Ifetayo Ojelade
Twitter - @DrIfetayo
Facebook - @AHealingParadigm
Contact: (404) 635-6021


Example Featured Products
Showcase other available courses and coaching products you're selling with the Featured Products block to provide alternatives to visitors who may not be interested in this specific course.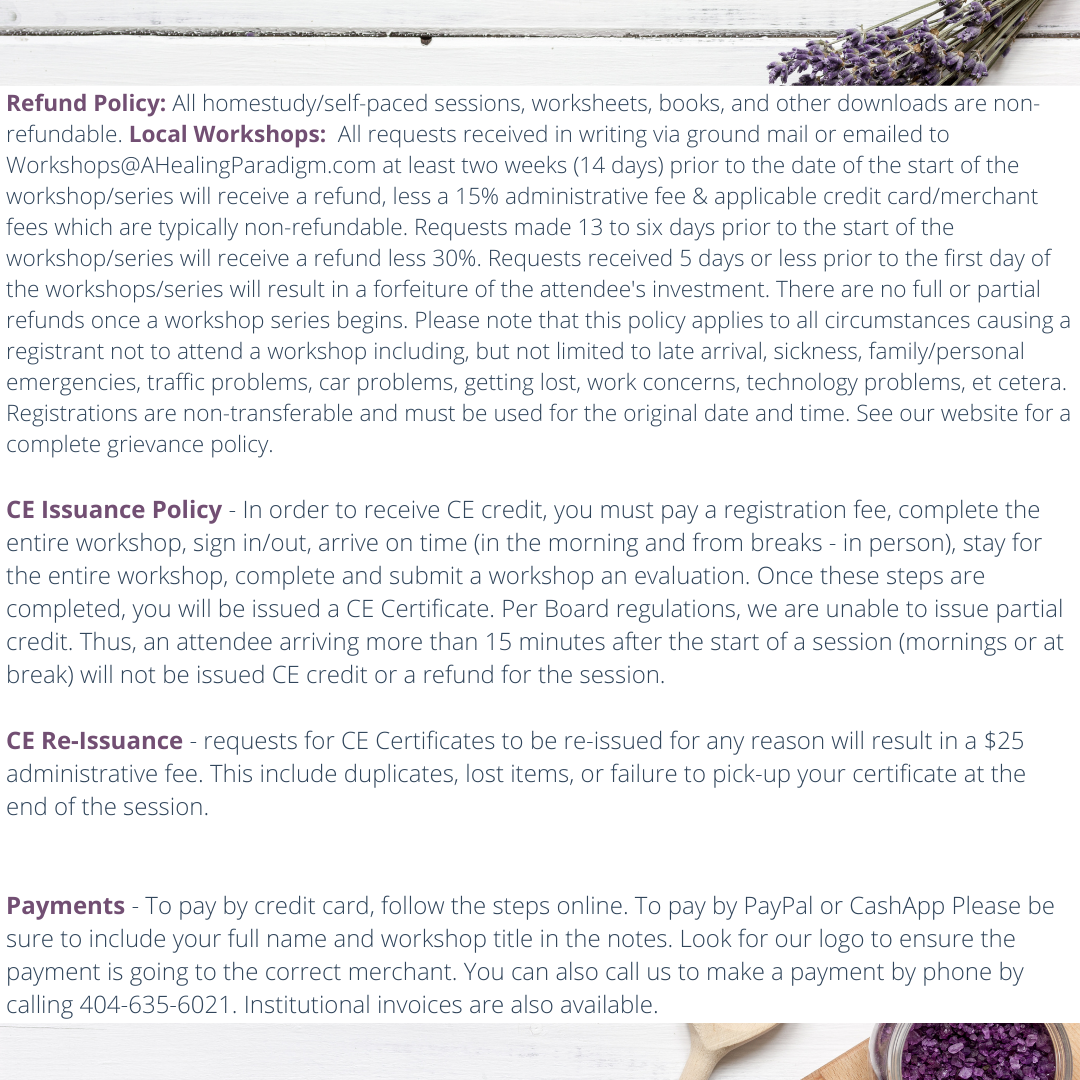 Multi-Course Discount


We are offering a discount when purchasing bundles of 5 or more one hour sessions and two or more 6+ hour sessions. Please contact our office for specific instructions.
404-635-6021